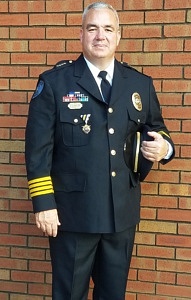 Dwayne Wheeler
Chief of Police
Police Headquarters
108 West Vine Street
Taylorville, Illinois 62568-1944
Non-Emergency: (217) 824-2211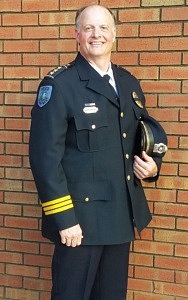 Vince Childers
Deputy Chief
Message from the Chief and Deputy Chief
Welcome to the City of Taylorville Police Department's website.  Our police department strives to provide excellence in policing services by working collaboratively with the community to address crime, the fear of crime and other public safety concerns.  We work in partnership with residents, schools, local businesses, home owner associations, civic groups, churches and other government agencies to ensure the City of Taylorville is a place where people want to work, live and play.
At the head of police department, I am committed to ensure that Taylorville police employees' enforcement of the law is ethical, constitutional and fair.  Our department takes advantage of the latest technology, and best practices in the field of law enforcement to ensure our residents, businesses and visitors receive quality service in a timely manner.
It is my pleasure to work for such a supportive community and I welcome your input as to how we may serve you better.
Sincerely,
Chief Dwayne Wheeler
Deputy Chief Vince Childers
Leadership Statement
As the head of the police department, I commit myself and staff to work in cooperation and collaboration with the members of the community to provide a safe, healthy and peaceful environment.  I will ensure that our members keep abreast of the best practices in the field of law enforcement and remain highly trained, competent and effective in addressing crime and the conditions that lead to crime.  We will continue to take pride in service to the community and each other by always remaining cognizant and protective of the constitutional rights and the human dignity of those we serve.  Our ultimate goal is to provide excellence in policing services.
Mission Statement
The mission of the Taylorville Police Department is to protect life and property and enhance the quality of life for all citizens while enforcing the laws of the State of Illinois and ordinances of the City of Taylorville, in accordance with Constitutional rights.  The men and women of the Police Department, working under the motto "Proud to Serve", take pride in providing professional police service to the community they have sworn to protect.  The Taylorville Police Department is committed to serving all citizens equally, in a manner that is both procedurally just and transparent.
While always striving to improve our performance, we ask for your input to make the police department strive to be the best.  It takes a community to work together to make this great city a better place to live and raise our families.  Our commitment  to community relations remains at the forefront of everything we do.
Emergency Response Team
Drone Video from the Taylorville Police Department
The following video is to show our citizens a tool that TPD has launched to help our city.  Officer Chase Dickey has been through the necessary training to become a Drone operator.  TPD believes this tool will be an asset to our department and city.  Drones can cover territory much more quickly and efficiently than officers can on foot or even by vehicle.  Moreover, drones can get under tree cover, or between buildings, to access places that helicopters can't.  Our Drone is equipped with a thermal camera – a drone can easily spot a lost or missing person hidden under rubble, undergrowth or even at night.  This is a great tool to assist in missing children or adults and of course subjects that have fled the police.  The Drone will also be used to video crime scenes, accident and traffic management.  Thank you to Detective Adams for putting this video together.  Thank you to the elected officials that approved this purchase.
Employment Information
Officer/Employee of the Quarter
Police Chaplain Program
Safe Passage
Taylorville Police Officers Contact List
Freedom of Information ACT (FOIA)
The City of Taylorville fully supports and complies with the updated Freedom of Information Act (FOIA) legislation effective January 1, 2010.
1. Requests for copies or inspection of the City of Taylorville's records should be directed to the following:
FOIA Officers
Kirsten Nelson-Police Records Clerk
City of Taylorville Police Department
108 West Vine Street
Taylorville, IL 62568
Phone: (217) 824-2211
Fax: (217) 824-2356
Julie Lilly-City Clerk
City of Taylorville Clerk's Office
115 North Main Street
Taylorville, IL 62568
Phone: (217) 824-2101
Fax: (217) 824-8731
2. All requests for records must be in writing. Requests can be submitted to the City of Taylorville by personal delivery, mail, fax, or email. The appropriate form may be obtained either from the City Clerk's Office or the Taylorville Police Department. The City of Taylorville must comply with or deny a request for records within five (5) business days.
3. The City of Taylorville is not required to allow inspection and copying of any records falling within any of the exemptions noted in Section 7 of the Freedom of Information Act.
4. The Illinois Freedom of Information Act allows for the imposing of fees for the copying of requests for public records. The fees are as follows: the first fifty (50) black and white copies are free of charge with each additional copy after fifty (50) pages being $.15 a page. For color copies, abnormally sized copies or copies on other media, the City of Taylorville may charge a fee equal to the actual cost of these copies.
Additional Resources
– Youth Education & Awareness Program Website
– Illinois Sex Offender Registry
– Motor Vehicle Crash Reports