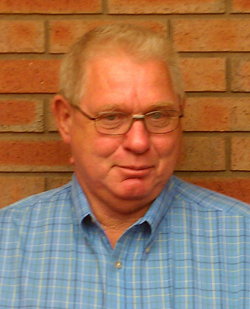 Dick Wiseman
Street & Sewer Superintendent

205 North Cherokee Street
Taylorville, Illinois 62568-1944
Phone: (217) 824-2559
Hours: 7AM-4PM Mon-Fri
(Closed between 12pm & 1pm)

The City of Taylorville Street & Sewer Department is responsible for maintaining approximately 85 miles of city streets and alleyways, all sanitary and storm sewers within the city and sixteen lift stations.
In addition to maintaining streets and alleyways, the Street Department also provides limb pickup in the months of April and October, mosquito spraying, snow removal, street sweeping, signal light maintenance, and boulevard tree trimming.
The Sewer Department repairs, cleans and installs sanitary and storm sewer lines, televises sewer lines to determine sewer taps and trouble shoot possible problems in the main sewers and uses the Vactor machine to blow main sewer lines and clean culverts and catch basins. There are approximately 400 miles of sanitary and storm sewers installed from 1893 to 2002.
There are six full time employees in the Street Department and three full time employees in the Sewer Department. If help is needed in either department, personnel move from one department to the other to help out.
– Tree Limb Pick Up Schedule
– Leaf Burning Schedule
– Storm Water Separation
– Trash Dumping Regulations
– Christmas Tree Pickup
Current Projects:
Northern Avenue 8″ Sanitary Sewer Line 
The City of Taylorville Street/Sewer department will be working on installing an 8″ Sanitary Sewer line from Route 29 to Northern Avenue for Steak N Shake.
HSHS Sanitary Sewer Line
The City of Taylorville will be working on the Sanitary Sewer line for HSHS now through 2019.
Asphalt
East Main paved from Paw Paw to Cherokee and Walnut paved from Pleasant to Adams.
Household Waste: Residents may deposit household waste and old furniture, mattresses, and microwaves in the dumpster at the Street Department.
Yard Waste: Residents may bring leaves, grass clippings, weeds, small twigs, shrub and bush clippings, and small garden or flower plants. Residents are responsible for removing yard waste from bags and taking bags with them after disposal in the yard waste bin at the Street Department
Old appliances and scrap metal: Residents may bring scrap metal and old appliances, excluding those that have contained freon, to the Street Department scrap metal bin.
Recycling: Items accepted are newspaper, plastic, aluminum cans and magazines. Cardboard is not accepted.
Located at the Street Department are facilities for City residents to dispose of household waste, yard waste, old appliances and scrap metal and a recycling bin. Yard waste, scrap metal and recycling are free of charge. Household waste is $1.00 per bag or item. Garbage Disposal Fee Tags can be purchased at the City Clerk's Office.
NOTE: Attendant will ask for current drivers license or current tax bill for proof of residency of the city limits.
The hours for household waste and recycling are Monday, Wednesday, Friday, and Saturday from 7:00 AM to 3:00 PM.
The hours for yard waste and the scrap metal bin are Monday through Saturday 7:00 AM to 3:00 PM.